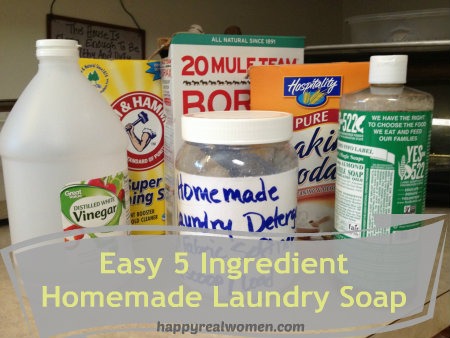 This is a variation on a pretty standard homemade laundry soap recipe. I like it because it's an 'all-in-one' type with whitening, stain fighting and softening properties together.
I've played with the recipe a bit and punched up the whitening and cleaning properties to my liking. This is the 'punched' up recipe I use.
Why make your own laundry soap? There are two basic reasons you might think of: toxins and cost. There are good, green laundry soap options out there. But you can make your own for much less, if you like the DIY option.
A Quick Look at Toxins
It's sort of a no-brainer that toxins affect our health and I think all of us are becoming more and more aware of this. You probably also know that our skin is an organ of our body (like our liver, kidneys, heart, etc). In fact, it is the largest organ.
Like other organs, our skin can absorb things we touch, what we actively put on it (cosmetics, lotion, etc) or from fabrics that touch our body.
Commercial laundry products that contain toxins have the potential to transfer residue from clothes, sheets and towels, our body.
Some of the same toxic ingredients used in commercial shampoos and deodorants are used in many laundry soaps. For a more detailed look at toxins in laundry soap, go here.
Three of the toxic chemicals commonly found in commercial laundry soap:
• Phenols – made from crude oil, by an industrial process. Phenols dangers are many, including heart, lung, kidney and liver damage. The skin very easily absorbs phenols, so it is wise to avoid these toxic chemicals when you can.
• Phosphates – a hard water softener put in many products to help your clothes (and whatever else you are washing) get cleaner. The problem here is that phosphates can cause skin irritation, nausea and vomiting. Phosphates released into the environment cause an imbalance in the ecosystem (think algae growth, depleted oxygen levels in the water when plants die leading to fish and plant die-off). Because of this, many states have regulated the amount of phosphates that can be used. In 2010, seventeen states banned them altogether. Read about that here and here.
• Artificial fragrances – made mostly from petroleum products and various man-made chemicals that can be hazardous to your health. Man-made, or synthetic fragrances, contain phthalates. Phthalates interfere with the body's natural hormone processes, and have been linked to birth defects, learning and developmental disabilities and cancer. Other chemicals are in synthetic fragrances, but manufacturers do not usually disclose them because they are considered "trade secrets".
Easy 5 Ingredient Homemade Laundry Soap
Making your own homemade laundry soap is a doable alternative for you and your family's health…and your budget.
Definitely, making it is more cost effective.
Ingredients are easy to find.
And it's not difficult or time consuming to make – about 20 minutes is all you need.
Ingredients you need (and what they do):
Baking Soda – cleaning, deodorizing
White Vinegar – softening
Washing soda – cleaning booster, stain fighting,
Borax – cleaning, stain fighting, whitening
Liquid Castile soap – cleaning agent
Recipe:
• 1 cup baking soda
• 1 ½ cups white vinegar
• 1 ½ cup washing soda
• 1 ½ cup borax
• ¾ cup liquid castile soap
Instructions:
1. Combine all ingredients in a plastic or glass bowl one at a time in the order listed. See the tips below for mixing the white vinegar and baking soda!!
2. Hand mix each one thoroughly before adding the next ingredient.
3. Store in a non-metal container with a lid. A re-purposed large protein powder, or coconut oil container (about 54 oz sized) works perfectly.
4. Use approximately ¼ cup per load of laundry.
This is slow sudsing laundry soap so it is fine for HD washing machines.
Tips for Making:
• Add the white vinegar very slowly to the baking soda because it will bubble up and overflow if you're not careful. Stir it continuously until it stops bubbling. (By the way, baking soda and vinegar in equal parts (and in that order) is a great drain clog buster!)
• When you add the liquid castile soap, be sure that you immediately stir it all together because it firms up quickly. If you wait, it will get hard and be practically impossible to stir.

• Even after you stir it completely, it will continue to firm up for about 15 minutes or so after you stop. I used a butter knife to 'stir' and break it up into a lumpy, power-ish form. Break it up frequently for those 15 minutes. Here's what happens if you don't!!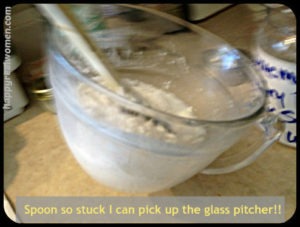 • Don't use a food processor or mixer to mix this up. The mixture will already be a little bit warm from the chemical reactions going on. Heat from the food processor or blender will further melt it into little soap clumps.
Trust me…I know!
• It does dissolve completely in the washer…even the soap clumps and even in cold water washing. Put the laundry soap in when the washer is filling and let it dissolve a little before adding clothes.
What I like about this laundry soap:
• Having an all-in-one is a plus for me. I quit using fabric softener years ago and switched to using vinegar. My washer doesn't have an automatic dispenser so I just poured it in with the detergent. But sometimes I forgot.
• It took about 20 minutes to mix together and put in a container. Easy, peasy!!
• My best guestimate is that this makes enough for 20 loads (at the ¼ cup per load usage). You could probably use less if your clothes aren't really dirty.
• You can fragrance it up with scented liquid castile soap or essential oils if you prefer. Honestly, though, I think the dilution in the washer negates any scent in the laundry soap so I don't bother. Plus I like the scent of 'clean' just fine 😉
What do you think? Have you tried this easy 5 ingredient homemade laundry soap before?


Pam is an experienced, professional, freelance B2B copywriter, consultant and trainer.  She blends her love of studying God's Word and interests in natural beauty, health and home alternatives and communication skills to bring you resources to improve your everyday life. You can also find her at
Follow Us