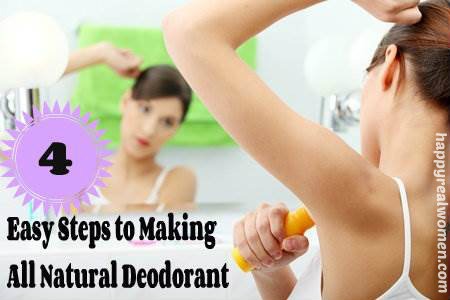 Until recently I never thought about making all natural deodorant.
Sure, I've had successes with homemade shampoos, and essential oils to treat anything from minor cuts, burns and bug bites to a homemade anti-wrinkle cream to pain relief blend and more (hint, hint: future post alerts!) .
But anywhere you get good performing, all natural options that work, save on the family budget and eliminate toxins in your daily routine…I'm all in!!
But a few months ago I read a Dr. Mercola article that mentioned a high concentration of breast cancer tumors were located in the upper quadrant of breast tissue, near where deodorants are applied.   In fact, the article says 99% of breast tissue contain parabens (not aluminum, like you might think).  I poked around Dr Mercola's website a bit and found plenty of additional articles… I'd like to suggest this one and this one also.
That got me thinking about making an all natural deodorant.
4 Easy Steps to Making All Natural Deodorant
I first found this recipe on WellnessMama. For a couple of reasons,  I made a few adaptations:
Made made smaller amount. One,  I didn't have a lot of coconut oil  at the time and two, what if I didn't like it, or it didn't work?   This recipe makes about 2 oz.
Used tapioca starch.  it's also a  thickener.  I had tapioca on hand from trying my hand at gluten-free breads.  I gave up on that, but this was one of the leftover flours.
 I like saving steps when possible, so made the deodorant in the container I planned to store it in.  I used a 4 oz canning jar, but you could use another sturdy glass jar.  Pyrex makes a 1 cup glass bowl with plastic snap-on lid that would work well.
Ingredients
6 tablespoons coconut oil
4 tablespoons baking soda
4 tablespoons tapioca starch (aka tapoica flour)
5-7 drops essential oils (optional)
This recipe makes about 2 oz.
Instructions
Melt coconut oil in 4 oz  (1/2 c) or larger glass container.  Put the glass jar into a small skillet of boiling water. When melted, remove from heat.  Let cool slightly for easier handling.
Pour baking soda and tapioca  starch into melted oil.
Stir with fork until completely blended.
Add 5-7 drops of essential oils (optional).

 By now your deodorant should be slightly warm  to room temperature.  This is a good time to add essential oils.  You could choose high-value antibacterial oil like lemon, lime, grapefruit, geranium, tea tree or eucalytpus. 
Store in your bathroom – somewhere where it won't break.  My cat loves to jump from the bathroom window to the sink, to the tub and repeat…all while you are getting dressed!  Needless to say, safe storage is important, regardless of what's going on in your bathroom.
To Use
With the top of your fingernail, scrape a pea to bean sized amount out of the jar and apply to your armpit; repeat for other armpit.
Notes:
Have all your ingredients pre-measured and ready to go before you start mixing. It will only be a few minutes until you have a soft-set deodorant. Tapioca starch sets up quickly!
Either container mentioned are sturdy glass that are durable and less likely to break. You can also pour it into an old deodorant container while it's warm, but before it sets up.  If you do this, beware you will probably have to store it in the refrigerator in the summer to keep it from melting.
The deodorant is slightly gritty, but not off-putting.  I'm fine with that, it's my armpit – no one is likely to touch it!
This is a deodorant, not antiperspirant.  You will still sweat some, but it seems less over time. Sweating is good for you – keeps you cool and releases toxins.   I started during the winter and have been using about 3 months.
There is a short adjustment period.  It does work, but you may not notice the full effects for a week or so.
You don't get white stains on your clothes from getting dressed!
This recipe probably takes 15 minutes TOPS to make.
Clean up is easy.     All natural….toxin-free.     Win-win-win!
What do you think?
Pam is an experienced, professional, freelance B2B copywriter, consultant and trainer.  She blends her love of studying God's Word and interests in natural beauty, health and home alternatives and communication skills to bring you resources to improve your everyday life. You can also find her at
Follow Us