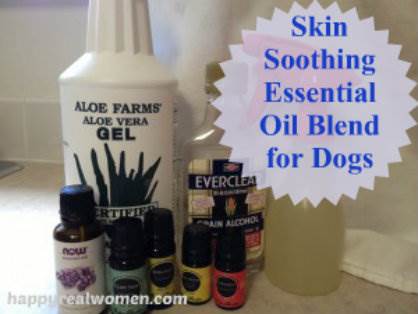 Here is a simple skin soothing essential oil blend for dogs, especially with skin allergies, to calm and cool itchy skin. This can be used to reduce scratching before they turn into weeping, open sores, commonly known as 'hot spots' that are prone to infection, which you really want to avoid.  Also included are two ways to use it.
This blend is a good addition to the Dog Seasonal Allergy Recipe due to the fact that the majority of these oils have calming and cooling properties in addition to being anti-inflammatory.
The original recipe came from Holistic Aromatherapy for Animals, but this recipe has a couple of substitutions I researched and made for the oils I already have on hand.
Essential Oils List
Here are the essential oils used in this recipe, with some of their therapeutic properties:
Geranium – cooling, skin balancing, anti-inflammatory, anti-fungal, good for skin ailments, especially yeast.
Helichrysum – anti-inflammatory, regenerative, analgesic, calming, skin disorders.
Lavender – anti-inflammatory, anti-itch, very gentle and effective for skin conditions, first aid, healing, also a calming oil due to central nervous system sedative properties.
Bergamot – anti-inflammatory, cooling, promotes calming and has relaxing and uplifting qualities (due to central nervous system tonic and sedative properties) that reduce emotional stress.
Clary Sage – predominantly calming influences to the central nervous system sedative properties, antiseptic and bactericidal properties help to fight bacteria and germs that cause infections.  Note: It should be used in small amounts for animals.  In this recipe, only 1 drop.     
Dog-Appropriate Strength
According to Kristen Leigh Bell, author of Holistic Aromatherapy for Animals, dog blends should be no more that 1%-2% strength essential oil to carrier oil.  This is equivalent to 25% of a human dosage, which is also a toddler dosage. For other precautions, check the Dog Seasonal Allergy Recipe
Skin Soothing Essential Oil Blend  
2 drops Geranium
6 drops Bergamot
6 drops Lavender
1 drop Clary Sage
2 drops Helichrysum
(17 drops total)
For this blend, you will use this combination of oils no matter which of the 2 application methods you choose.  The strength will change with the method chosen.  I've done the math and listed it for your convenience.
2 Ways to Use – with Directions
For these application methods, remember that the goal is to get it on the irritated skin. Depending on your dog's coat thickness, one method may work better than another.
1.      Skin Soothing Spray
This the best way for applying to large affected areas, especially itchy bellies! A bottle with a trigger spray handle (like in the picture) may be better at getting through thick fur and down to the skin.  The strength of the soothing skin spray will depend on your bottle size; I've listed strengths for both 6oz (the one in the picture) and 8oz bottles.
Ingredients:
Essential oils listed above
½ oz Grain Alcohol or Vodka
Fill bottle to top with Aloe Vera gel
Strength:       6oz = 0.45%
8oz = 0.33%
The Grain Alcohol or Vodka provides a little cooling and drying, while the Aloe Vera gel (the carrier method in this case) is moisturizing.  This is not a greasy spray, so that is a nice benefit. Keeping the bottle in the refrigerator provides a nice cooling effect on the skin as well.  Shake well before use, apply as needed to the affected areas and massage in.
2.      Skin Soothing Oil
A good option for spot treating small areas. This is very near the original recipe, with the exception of changing two essential oils to match what I have. This recipe does make a stronger skin soothing blend, which is beneficial for stubborn areas.
Ingredients:
Essential oils listed above
½ oz carrier oil – olive, jojoba, coconut, hazelnut or sweet almond.
Strength:       ½oz  = 4.25%
Combine ingredients and mix well.  Food based carrier oils are probably more receptive to dogs, especially if they are 'food motivated'. The listed carrier oils penetrate the skin quickly, and if you get it through the hair and on the skin, this shouldn't be a problem.
Coconut oil is solid at room temperature and melts at about 72 degrees.  If you use this for your carrier oil, put the oil in your jar, hold it in your hand for a few minutes until it gets soft and then add in the essential oils, blending with a toothpick, wooden skewer (you can find these at dollar stores or in the kitchen utensil section of many stores) or the like.  If you use coconut oil, your recipe may resemble more of a soft, creamy texture after adding the essential oil blend.
For liquid carrier oils, apply 2-4 drops to affected areas and rub in. If you make a creamy texture, apply a thin layer to the inflamed area.
Naturally, you can double or triple the recipe depending on your container size. Personally, I've mixed up both and they each work well.  I prefer the Skin Soothing Oil (recipe #2) for his belly when it's really reddened and irritated for faster relief.
As Jake's allergies have begun to lessen, I've been able to minimize the Seasonal Allergy Recipe application, and control his itchy symptoms with these recipes almost exclusively.
I hope you find these recipes helpful.  Please let me know if you try these or if you have some other handy pet remedy!
Disclaimer: I am not a health care practitioner, aromatherapist or any other medical professional. Always get a veterinary diagnosis for your pet first.  Do your own research so that you are satisfied with your home remedy course of action, and of course, seek veterinary assistance if you don't see results or experience problems. The links in this post are non-affiliate links. I do not make any money from purchases you may make from these sites.
Pam is an experienced, professional, freelance B2B copywriter, consultant and trainer.  She blends her love of studying God's Word and interests in natural beauty, health and home alternatives and communication skills to bring you resources to improve your everyday life. You can also find her at
Follow Us