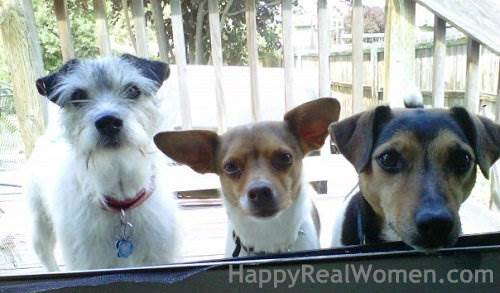 If you've ever struggled with a dog with seasonal allergies, you can relate to this post.  Here is  an essential oil  recipe that you can use as an alternative to Prednisone.
We like to be as much a drug-free home as possible, so over the years I've searched (and bought) a lot of dog-friendly natural alternatives, looking for something that works, with little success.  I began looking at essential oils too.  But information on  using essential oils for animals is pretty nil. At least that's been my experience until this year. Finally, I think I've come up with a dog seasonal allergy recipe that helps!
Jake's Story
Here are our three dogs – two Jack Russells and a Fox Terrier.  Don't let those cute faces fool you – they are mischief makers!
Jake (the white one) has allergies.  They became apparent the year after I adopted him – 9 years ago.  He actually has 2 different types of allergies – food and seasonal allergies as it turns out.  I mildly suspected the food allergies, but it was a good quality food, so Jake took Prednisone for a few weeks each summer.  Dogs get allergies just like people do.
Jake's food allergy was confirmed through a series of events and switched the food again and thought everything would be good.
But his allergies kept coming back…for 6 weeks every year Jake goes crazy with itching, scratching, rubbing on the furniture…anything to get relief.  Actually, WE go through it, because he drives US crazy. This is no mild thing that goes away in a few days…He's miserable. On a bad year it goes on to October.  And some years he's scratched incessantly to the point of having bald spots and the vet puts him on antibiotics as an infection preventative.
I've switched the food a couple more times to get a holistic, allergy free food to remove any potential allergy source.  That helped some, but Jake's seasonal allergies show up every year like clockwork…3rd week of July to September…maybe mid-September. .  NOT fun for any of us, least of all, Jake.
An Essential Oil Blend That  Mimics Prednisone
I scoured the internet and last year found a 'people' blend that consisted of 7 oils.  According to that article, that essential oil blend pretty well mimics prednisone.  But I wasn't sure if it was safe for dogs. I needed to know how to blend this, how to use this, safety…then I found a book Holistic Aromatherapy forAnimals which has a wealth of information pertaining to dogs. Read the book to get all the cautions, considerations, and guidelines, but I'll list several important for dogs (there are differences for cats as well):
There are some oils that are better suited for dogs for a variety of reasons (gentleness, safety, chemical properties of the oil and the physiological/psychological effects).
Use a very low dilution ratio for dogs: 25% of the human dosage, or the equivalent of a toddler's dosage (a 1-2%  ratio of essential oils to carrier oils). That translates into 10 drops of essential oils in 1/2 oz (15 ml) of carrier oil.
Introduce slowly to see how your dog reacts. Because of essential oil potency, less is better.
Some recipes are not meant to be taken internally (like this one), but with the low dilution it is not an issue .
Use a combination of 3-5 essential oils for best therapeutic results. No one essential oil will cover all the issues. By layering the oils, one oil will pick up where the other leaves off and continue the healing.
Note About Essential Oils
Always use therapeutic grade oils.  Without going into lengthy detail here, the extraction method is chemical free, and the plants are organic.  Usually, you will not be able to get therapeutic grade essential oils in your local health food store, only aromatic (perfume) or food grade.  I have used those before I really understood the difference and I did see results. I'm making the switch this year. Therapeutic grade essential oils are more expensive, but the higher quality means better or faster results.  Check out the 'Beauty and Health Resource Links' box to the right for a few sources I like, or you can look here and here.
Jake's Soothing Itchy Skin Essential Oil Recipe
Here's the blend I came up with after doing all the research.  I've substituted all oils from the original blend to  'dog suitable' oils.  This recipe follows more closely the 'prednisone oil blend' than the itchy skin blend in the book. I've listed some of the properties of each oil. Generally, oils were selected for their ability to  protect against skin infection, provide itch relief, and calming, cooling, skin rejuvenating/regenerating properties.    Also, I recognize that there are certainly other oils that you could use.  These are also budget friendly.
There are 7 oils, in no particular order:
Geranium – cooling, skin balancing, anti-inflammatory, anti-fungal, good for skin ailments, especially yeast
Peppermint  – cooling, pain and itch relief
Myrrh – anti-inflammatory, good for treating  inflamed or irritated  skin conditions
Helichrysum – anti-inflammatory, regenerative, analgesic, calming, skin disorders
Cedarwood Atlantica (specifically this subspecies for dogs) – circulation stimulating, release of toxins
Lavender – anti-inflammatory, anti-itch, very gentle and effective for skin conditions, first aid, healing, also as a calming oil due to central nervous system sedative properties
Frankincense – strengthens weak immune systems, good for all sorts of skin ailments – anti-inflammatory, antibacterial, skin rejuvenating and regenerating
Carrier oil options: olive, jojoba, sweet almond, coconut, hazelnut.  These oils are not the complete list, but represent oils that penetrate the skin quickly, getting the essential oils into the bloodstream.  Mineral oil or petroleum based gels or creams are not recommended – they tend to sit on the surface of the skin, with little absorption.  Food-scented oils are more pleasing to dogs.
Here are a couple of possible combinations:
For 10 drops per 1/2 oz
1 drop each essential oil  (7  total) + 3 additional drops of your choice, depending on the issues you are dealing with.  For Jake, I always opt for anti-itch/cooling oils (Lavender, Geranium and Peppermint)
For 20 drops per 1 oz 
3 drops of each essential oil (21 drops total)
or
 3 drops of  6 essential oil (18 drops) + 2 drops of 1 essential oil  (20 total)
Instructions
Use a dark amber, green or blue glass  bottle (you can usually get these at your local health food store)
Put the essential oils in first, then fill to top with carrier oil of choice.
Put the a few drops of the oil blend on your dogs paws and on the skin between their pads.  Massage them in.  Apply as often as needed.  Paws have a lot of nerve endings (like human feet – think reflexology) so this is the fastest way to get oils into the bloodstream.
You will probably see improvement in 20 minutes or less.
My Notes So Far:
This is my first allergy season to use this on Jake, and we are at about 3+ weeks now with very good results.  (Last year I made a Hot Spot Spray that worked well temporarily so I had an idea of the results).
I had to order therapeutic grade oils and should have ordered them long before I did (you know how that goes!), so for about the first 2 weeks I used health food store essential oils that I already had, and only 4 of them (again what I had): Lavender, Peppermint, Myrrh, and Frankincense.  This worked well because Jake's symptoms are usually mild the first week or so before getting full-blown. I use jojoba oil as the carrier because that's what I have.
The first week I applied the oil to his feet in the morning, then started applying it morning and evening.
Got my therapeutic grade oils and mixed up a batch.  Jake's symptoms are more intense, but that is normal, and will probably continue until September. Because of this, I put the oils on his paws about 3 times a day or as needed.
I see results in about 10 minutes or so.
So there you have it!  I was going to wait until September to post this, but my results are sooooo promising If you are going through ANYthing like what Jake goes through, I figured you probably needed this information sooner than later.
Please let me know if you try this or if you have some other handy pet remedy!
Disclaimer: I am not a health care practitioner, aromatherapist or any other medical professional. Always get a veterinary diagnosis for you pet first.  Do your own research so that you are satisfied with your home remedy course of action, and of course, seek veterinary assistance if you don't see results or experience problems. The links in this post are non-affiliate links. I do not make any money from purchases you may make from these sites.
Pam is an experienced, professional, freelance B2B copywriter, consultant and trainer.  She blends her love of studying God's Word and interests in natural beauty, health and home alternatives and communication skills to bring you resources to improve your everyday life. You can also find her at
Follow Us