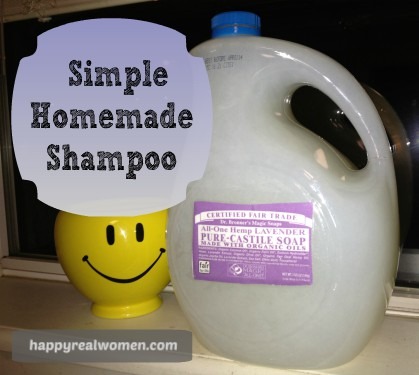 I've tried my hand at making homemade shampoo several times, but never quite liked them. Finally I found a simple, homemade shampoo that is a winner!
Of all the ones I've tried, this one is my favorite. It doesn't take a lot of time to make it, and you get a gallon for the price of a bar of soap.
As for the results: I have less hair loss,  more body and NO. SPLIT. ENDS.   And when I follow this with an apple cider vinegar rinse, my hair is very soft and shiny.
Why Make Your Own Shampoo
I haven't used commercial shampoo or conditioner for at least 7 years. 
That was when I couldn't ignore all the hair in the Shower drain anymore. …Ughh.
Maybe you have been there too. It's just an aging thing and you can't do do anything about it, right?
Yes and no.
Some of it is genetics. Some medications may be contributing to your hair loss.
Nutrition also plays a part, and that you can change.
But despite the things you can't change, , there are still things you can do.  I talked a lot about this where I related my experience using the no 'poo method, so I won't repeat it here. 
No 'poo didn't work for me, so I started looking for something else.
Dr. Bronner's Liquid Soap
That worked and I used it for several years. I followed it with an apple cider vinegar rinse to close the hair cuticles. And got very shiny, silky hair. 
But since the consistency was like water, I felt like there might be too much waste. 
So I started looking for a simple homemade shampoo that had the thickness of commercial shampoo.
Dr. Bronner's Bar Soap to the Rescue!
I poked around on the Internet for a while looking to see what was out there. That's when I found the a simple homemade shampoo made from a bar of Dr. Bronner's bar soap.
I really like it, and have used it for about 5 years now.
It's not as sudsy as the liquid Dr. Bronner's (or commercial shampoo for that matter).  
That really bugged me for a while, so I poured some liquid Dr. Bronner's in with it to compensate.  But after a few months it became a non-issue, so I don't bother anymore.
Conditioner Options
I still rinse my hair after every wash with an apple cider vinegar rinse. That simple step seals the hair cuticle and gives it a softer feel. Sealing the hair cuticle also prevents split ends.
You can infuse your apple cider vinegar with herbs for extra conditioning and a bit of tinting.
When my hair feels a bit dry, I add some vegetable glycerin to the bottle that sits by the tub.
After making it for several years, I have a system down that is easy.
For the cost of a bar of soap I can make a gallon of gentle shampoo!!
And Dr. Bronner's offers plenty of scent options to choose from. I usually stick with sweet almond or lavender. Peppermint is nice too, and stimulates your scalp.
Using the tips I'm sharing here, it doesn't take more than an hour to make this simple homemade shampoo.  Sweet!!!
How Much Do You Want To Make?
You can use the whole bar and make a gallon of shampoo.  But you can also make different quantities. 
Once when I made an extended stay with mom, I bought a bar when I got to her house. 
I made a 16 oz size bottle of shampoo since I knew I would use it all before I left.  The rest of the bar went home with me.
Just score the bar on both sides for the amount you want to grate.  Sometimes if the bar is warm enough, you can cut through it and grate that piece only.
How to break down the quantities: 
1 bar = 1 gallon
1/2 bar = 1/2 gallon (64 oz)
1/4 bar = 1 quart (32 oz)
1/8 bar = 16 oz
How I Make 1 Gallon of Shampoo
(With Notes for Making Smaller Quantities)

1.  Put about 2 cups of water in non-aluminum pan (I use a glass one I got from a thrift store).
Bring it to the point of tiny bubbles rising to the surface- just below a boil and keep it there while you melt the soap.
If you are making a 1 quart capacity or smaller, adjust the amount of water down to 1 cup.
Have a quart size canning jar, a funnel and a wooden spoon handy, and also a 1 gallon container to put the final product in.
I re-purposed a orange juice jug for this because… well, I had one. The clear container lets me see what's going on too.
2.  While the water is getting hot, grate the bar of soap with a regular cheese shredder.
3. As you get a little soap grated, put it in the hot water to melt. Keep doing this until you have the whole bar melted. 
Go slowly at this step. too much soap will melt together into a big blob that takes much longer to completely melt.
4. Stir occasionally. It might foam up a bit. That's OK.
5. Once all the soap is melted, put about a cup of cold water in the canning jar and then slowly pour the melted soap in. This helps to rapidly cool the soap so you can transfer it to the one gallon container without melting it.
If you are making a 1 quart capacity or smaller, you can dilute to the final amount all in the canning jar, and skip to step 8). At this stage, the shampoo is still runny like water.
6. For a 1 gallon container: Before pouring the melted soap into the container, put about a cup or so of cold water in the container. That way, when you pour the melted soap in, it will cool down more as its diluted. (Skip this step  if you are making 1 quart or smaller.)
7. For a 1 gallon container: Add cold water to fill your 1 gallon container almost to the top, but leave a little head space. (Also, skip this step  if you are making 1 quart or smaller.)  
8. Wait a full 24 hours for it to gel up to store-bought consistency.  After it gels up, no matter what quantity of shampoo you made, you will have to stir it to get it pour-able.  I like to transfer some into a smaller, more manageable container for everyday use (like an old shower gel bottle).  
9. The next day, or when you are ready to use it, take the long handle of a spoon and stir it well before using or transferring to another container.
10. Add-In Options: If my hair is dry, I like to add a little (about 2 teaspoons) vegetable glycerin to this small container as a moisturizer.  You can also add essential oils that are good for hair in your new shampoo if you like.
Pam is an experienced, professional, freelance B2B copywriter, consultant and trainer.  She blends her love of studying God's Word and interests in natural beauty, health and home alternatives and communication skills to bring you resources to improve your everyday life. You can also find her at
Follow Us