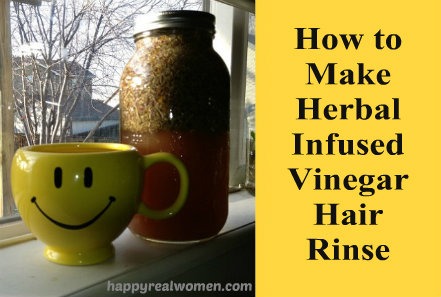 Rinsing your hair with a vinegar rinse has been around since our grandmother and great-grandmother's day.  Vinegar actually appears to be an ancient superfood all on its own (look for a future post on that!), but for now, we are going to learn how to make herbal infused vinegar hair rinse.
What Apple Cider Vinegar Does for Hair
Raw, unfiltered apple cider vinegar with the 'mother' has all the nutrients from the fermentation process still in it.   You may already know that an apple cider and water rinse smoothes and seals the hair cuticle to give your hair added shine and silkiness. That's a visible benefit you can see immediately the first time you use it.  But you may not know that it also balances hair and scalp pH, acts as a mild clarifier to remove oils and dirt, and product build up.
 Combining 2 Ideas + 3 Benefits = Working Smarter –  Not Harder
Here is a recipe twist on that old beauty treatment.
It combines granny's vinegar rinse and an herbal rinse.
AND you get 3 benefits-
Saves you time,
Gives your hair a double whammy nutrient treatment and,
Is shelf-stable a long time.
I wish I had thought of this, but the original idea comes from Rosemary Gladstar.  I'm always in favor of working smarter, not harder, and this does just that.
I was one step away from figuring this out myself, before I found this recipe.  Later in this post I'll show you how to provide some gentle hair tinting without using commercial dyes or henna.  
Vinegar Rinse & Herbal Rinse Revisited
If you are using the customized shampoo with essentials oils that we talked about previously, you are probably following it with a vinegar rinse to seal the hair cuticle.
And if you are using raw, unfiltered apple cider vinegar instead of white vinegar, you are providing tons of nutrients for your hair as well.
You may also know about making a strong rosemary tea to rinse through your hair several times for additional shine and nutrients.
In case you don't, here is a quick rundown: make a strong rosemary tea (fresh or dried) and let it steep for 30 minutes or so.  Once it cools, lean over a big bowl or some other catch basin and pour the rosemary tea through your hair, catching the excess in the bowl so that you can repeat the process about 15 times.  Leave the rosemary in your hair and proceed with your styling.  Store the remaining tea in the refrigerator for two weeks or so to use again.
I got so far as to making a herbal tea/vinegar rinse instead of the normal water/vinegar rinse…. a bit of hair tinting with my final vinegar rinse…that's working smarter!
If you leave the herbal tea on the stove overnight to cool before straining and refrigerating it, it didn't seem to last as long.  I always used it up before it soured.  But you have to keep the extra herbal tea in the refrigerator to keep it fresh, and even then it only lasts two or three weeks.
There for a while I got really busy and went back to the water/vinegar rinse.  That's when I realized that it really did gently tint my hair.  It isn't fake looking at all, but my gray did seem more noticeable as the color faded.
How to Make Herbal Infused Vinegar Hair Rinse
Enter Rosemary Gladstar…unbeknownst to me (at the time) she is a legend in herbal application for all things healthy.  She talks about infusing oils (and vinegar) and making tinctures for various uses.
As it turns out, infusing vinegar is pretty easy.  She also says apple cider vinegar is good for all hair types or you can use wine vinegar (a milder vinegar) for dry hair.  Because it stores indefinitely, you can make a larger quantity and store it. Here is her recipe.
What you will need:
Quart jar or larger size jar.  A wide-mouth jar makes it easy to work with the herbs.
Single herb or herb blend of choice (see below).
Vinegar of choice: apple cider (all hair types) or wine (for dry hair).
Instructions:
Fill your jar halfway with herb(s).
Pour vinegar to top, completely covering the herbs and cap tightly.
Put the jar in a warm location for 4 weeks or so.  Shake it daily to mix the contents.
Strain the vinegar.  You can use cheesecloth, or I like to use a nylon knee-high stocking.  Stretch it over the strainer (pull the nylon stocking on the top of the strainer to loosen the tension, the bottom doesn't matter) and slowly pour the vinegar through to strain it.
At this point I prefer to store the 'stock' herbal vinegar into glass jar(s) and mix up what I need as I go.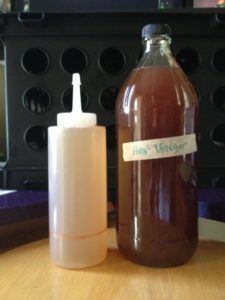 How To Use:
Mix 1 part herbal vinegar to 4 parts water in plastic, pointy top squeeze bottle.    This bottle was 5 inches tall, so I made a line at the 1 inch mark.  I fill the bottle to 1 inch with herbal vinegar and add filtered water to the top…very scientific, I know but hey, it works!!  See the picture to the right.
You now have a vinegar rinse ready to use – YAY!!
Store your vinegar rinse in the shower and use daily. Saturate your hair and leave in. Don't worry; infused with herbs, the vinegar smell isn't very strong, and will evaporate when your hair dries.
Herbs for Gentle Hair Tinting
You can also make a tea from a combination of herbs, specific to your hair color, and add some gentle tinting to your conditioning routine. Think of this as a progressive, non-permanent tinting.
It is very subtle, but you have to keep it up because the results won't last very long. Use consistently until you get the desired shade, and then weekly, to maintain the shade.
My suggestion is to use a dedicated towel when you do this because it WILL stain it…and leave spots in your shower…and wherever else you splash when rinsing your hair.  It's not bad, but just watch for it.
Below is a list of herbs I've found that are suitable for different hair colors. You can find some herbs in the bulk section of your local health food store; you can also get them here.  Get creative – mix and match to create highlights or use all of one herb.  If you are unsure about the herb, or how it will react on your hair, make a small herbal tea and test it on a patch of hair before spending weeks waiting for your vinegar to infuse.
Personally, I have light brown hair and usually use equal parts lavender, sage, nettles and rosemary.  I measure 1 cup each into a large plastic bag and mix thoroughly.  When I'm ready to make my herbal vinegar rinse, I fill a jar halfway with the blend.  I make a half-gallon at a time and it lasts me several months.
Blondes – generally any yellow flower.  Chamomile and calendula are lighter yellow, saffron and turmeric are bolder yellows and you might want to use a pinch with chamomile or calendula.  The others I don't have any experience with.
Chamomile
Calendula
Saffron-very strong – recommended to use only a pinch.
Mullein leaf and/or flower
Yellow broom flower
Turmeric -the herb is more orange than yellow looking.  I've accidentally stained my clothes, the counter top, etc working with turmeric and it is a pretty yellow, but kinda bright; very strong – recommended to use only a pinch.
Rhurbarb root – will add honey gold tones to light brown hair (to give you an idea of proportions: use 4 tablespoons to 3 cups water if making a tea).
Browns
Sage – for darker brown and black hair
Rosemary – not as dark as sage
Walnut hull – rich, brown tone
Cherry tree bark
Cloves
Tag Alder bark – a lighter tone than sage. Good for darkening blonde hair, or enhancing light to medium brown hair.
Blacks
Black tea
Walnut hull
Coffee
Reds
Marigold – will give red-golden highlights.
Hibiscus
Grays – gray hair is somewhat porous and will absorb the colors you put on it differently than pigmented hair.  Herb tinting may last longer on gray hair.  Recommended to test a patch of hair to see results.
Nettles –will potentially restore natural hair color.
All Hair Colors
Lavender – even with the purple-blue flowers, lavender isn't really considered a dye, and is acceptable for all hair colors; provides shine and silkiness.
As always, do your own research to be sure you are satisfied with the information provided and for more information on how to use. Always make sure you test a patch of hair if you are unsure of your specific results.
What do you think of this post?
Pam is an experienced, professional, freelance B2B copywriter, consultant and trainer.  She blends her love of studying God's Word and interests in natural beauty, health and home alternatives and communication skills to bring you resources to improve your everyday life. You can also find her at
Follow Us