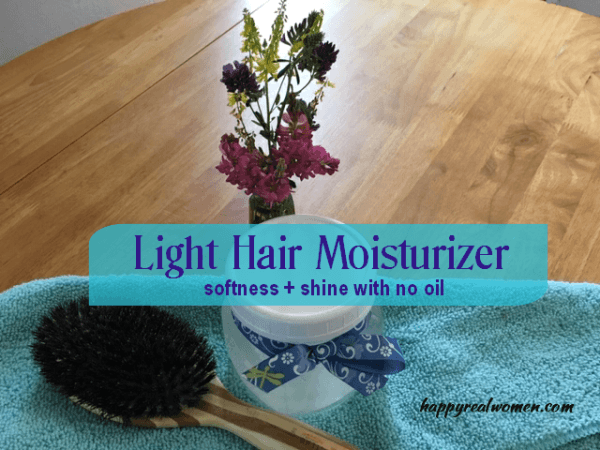 Are you looking for hair conditioner that moisturizes your hair without any oil?  This light hair moisturizer is perfect! Banish summertime dryness without weighing your hair down.
No matter what condition your hair is in, I'm confident this will give it a boost.
Maybe you hair is like mine. Overall, healthy, but an oil-based conditioner is too heavy.  And finally, you've found a good routine that puts your hair in a mostly 'maintenance-free' mode. 
But summertime dryness (and winter furnace dryness, too for that matter) can make your normally healthy hair a little lackluster and dull. 
And I don't know about you, but to me, light oils are still oils.  And they still weigh my fine hair down too much. 
Is it really possible to have soft, shiny hair without weighing it down with oils? 
I can absolutely say –YES!
I played around with ingredients I use for lotions and created a great light hair moisturizer you might want to try.
---
Please note that some links in this post are affiliate links. As an Amazon Associate I earn from qualifying purchases, if you click one of these links, with no additional cost passed on to you.  I only recommend products I use or find helpful.  If you choose to purchase from these links, I truly appreciate your support!
---
Makes A Great Gift Too
I made a large batch and gave it to my DD for her birthday, along with a microfiber hair towel similar to this one (I made one  because I didn't plan well) and a stiff bristle boar hair brush.  I have had this exact brush for a couple of years and love it
She loved  her 'hair care spa in a box' and now makes her own light hair moisturizer. 
Two Main Ingredients
Aloe Vera gel – is a natural moisturizer, mostly for skin, but I decided to try it for hair. You probably know about its skin soothing properties for burns, wound care and too much sun. It is also good for treating dandruff in your hair and scalp.  It's mostly water, but has a lot of nutrients, too. 
Here is my favorite aloe vera product (it's thicker than the others I've tried and keeps well in the refrigerator), but you can use the sun-care products you find in the grocery store 'seasonal section' successfully, too.
Vegetable Glycerin – a humectant. You find humectants listed on hair care products like shampoos and conditioners and I put it in my really simple shampoo.  I like to put vegetable glycerin in my face cream and lotions, too. I buy a quart size or larger, that's how much I use it!
Optional Ingredients – I add both of these
MSM – for hair growth and stimulating your scalp. MSM is short for methylsulfonylmethane and is rich in sulfur.  You probably remember it as one part of the MSM/Chondroitin/Glucosamine combo that is widely used for joint pain and arthritis relief.  
Sulfur is a mineral that is also known to help build collagen and keratin, and we usually all  have a mineral deficiency over 40. 
My recommendation is to get a powdered Opti-MSM variety when you have the chance. It's a bit more expensive, but it is a much higher quality.   
I also like everything I've tried in the family of NOW Supplements and use NOW powdered MSM.  A powdered form, or capsules you can break apart, allows for easy mixing and absorption.
Essential Oils – add whatever oils you like, or use this list for ideas for your particular hair needs.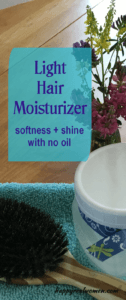 How to Make Light Hair Moisturizer
What follows will make about ¼ cup, which is enough for a single use (more if your hair is shorter). 
It stores well, so if you want to make a larger amount and have it handy, feel free to do so.  If you have a 1 cup container, multiply the measurements below by 4, for a 2 cup container, multiply by 8, and so on.          
 Ingredients
1 teaspoon hot water – to start.
½ teaspoon MSM – dissolve in the water
2 tablespoons aloe vera gel
1 tablespoon vegetable glycerin.
5 to 7 drops of essential oils of choice.
Instructions
Mix the MSM in the hot water
Add the aloe vera gel. If you are using the sun-care product option, it is super thick.  Not to worry, you can add more water at the end to get a consistency you like.
Add the vegetable glycerin and stir well.
Add more water if needed to get the consistency you like.  I aim for something the consistency of hair styling gel or a little thinner.
Add the essential oils and stir in.
Saturate your hair and scalp, massaging in as you work it in your hair.
Wrap hair in a plastic bag or shower cap, and put a towel around you hair. This keeps it from getting messy and provides some warmth.
Wait 15-20 minutes. Rinse out and style as usual, or rinse, shampoo and style as usual.  This step is completely up to you and what your hair needs.  For example, I usually try to not wash my hair at least one day per week to give it a break, so if I moisturize on that day, I wouldn't shampoo my hair.
A leave-in option might be to put this light hair moisturizer in your ends and let it dry.
How Often to Use
This is totally up to you and what your hair needs.
I hope you enjoy this light hair moisturizer!  


Pam is an experienced, professional, freelance B2B copywriter, consultant and trainer.  She blends her love of studying God's Word and interests in natural beauty, health and home alternatives and communication skills to bring you resources to improve your everyday life. You can also find her at
Follow Us