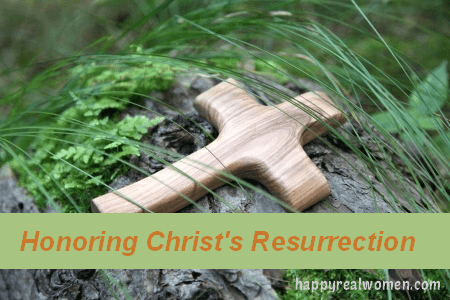 As we get ready to celebrate Christ's resurrection, it's important to remember that it's not about bunnies, candy, colored eggs or spring-inspired pastel finery…what is commonly called Easter.
There is absolutely no doubt that the resurrection of Jesus Christ is one of the most significant events in the Bible, and for all Christians who understand the significance it is a cause for much joy.
It is a time to honor Christ for what He did on the cross.
The price He paid for you and me so that we could have eternal life with Him.
Comfort for Believers
Christ's resurrection gives the believer great comfort.  Here are some verses speaking to that comfort:
Makes Faith Real
1 Corinthians 15:14-17
14 And if Christ is not risen, then our preaching is empty and your faith is also empty. 15 Yes, and we are found false witnesses of God, because we have testified of God that He raised up Christ, whom He did not raise up—if in fact the dead do not rise. 16 For if the dead do not rise, then Christ is not risen. 17 And if Christ is not risen, your faith is futile; you are still in your sins!
Forgives Sins
1 Corinthians 15:17
17 And if Christ is not risen, your faith is futile; you are still in your sins!
Gives Hope
1 Corinthians 15:18-19
18 Then also those who have fallen asleep in Christ have perished. 19 If in this life only we have hope in Christ, we are of all men the most pitiable.
Seals the Believer's Resurrection
1 Corinthians 15:20-23
20 But now Christ is risen from the dead, and has become the firstfruits of those who have fallen asleep. 21 For since by man came death, by Man also came the resurrection of the dead. 22 For as in Adam all die, even so in Christ all shall be made alive. 23 But each one in his own order: Christ the firstfruits, afterward those who are Christ's at His coming.
Acts 26: 23
23 that the Christ would suffer, that He would be the first to rise from the dead, and would proclaim light to the Jewish people and to the Gentiles."
Fulfills Scripture
Luke 24:45-46
45 And He opened their understanding, that they might comprehend the Scriptures. 46 Then He said to them, "Thus it is written, and thus it was necessary for the Christ to suffer and to rise from the dead the third day.
Proves His Sonship
Psalms 2:7
7 "I will declare the decree: The LORD has said to Me, 'You are My Son, Today I have begotten You.
Romans 1:4
4 And declared to be the Son of God with power according to the Spirit of holiness, by the resurrection from the dead.
Death Before Resurrection
That Christ was resurrected is glorious in itself.  That does give us comfort and hope.  It shows us that no matter what we are going through, God provides the victory over the enemy.  But, remember this – if it weren't for Christ's death, there would be no resurrection.
Atonement for Sin is a Life
This sacrificial system was established in detail in Leviticus – burnt offerings, grain offerings, peace offerings, sin offerings and trespass offerings. Leviticus chapter 4 details sin offerings. God allowed a substitute offering, such as a bull, goat, or a lamb. The take-away here is that something had to die to atone for people's sins.
Romans 6:23
23 For the wages of sin is death, but the gift of God is eternal life in Christ Jesus our Lord.
Christ was the propitiation for our sins. Another way to say this is that Jesus was the substitute payment for our sins.
Romans 3:25
25 whom God set forth as a propitiation by His blood, through faith, to demonstrate His righteousness, because in His forbearance God had passed over the sins that were previously committed
1 John 2:2
2 And He Himself is the propitiation for our sins, and not for ours only but also for the whole world.
1 John 4:10
10 In this is love, not that we loved God, but that He loved us and sent His Son to be the propitiation for our sins.
So, on this day that we celebrate Christ's resurrection, please understand that it isn't about all the traditions you probably have been taught. Naturally, there is a lot more to this topic that I'm not going to go into at the moment.
But I encourage you to research the true origin of the Easter for yourself.
Be informed and keep your eyes on Christ!
Pam is an experienced, professional, freelance B2B copywriter, consultant and trainer.  She blends her love of studying God's Word and interests in natural beauty, health and home alternatives and communication skills to bring you resources to improve your everyday life. You can also find her at
Follow Us