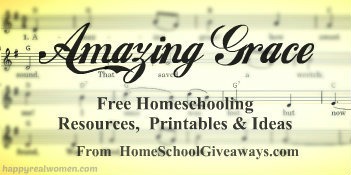 My daughter home schools her kiddos and we often talk about how challenging it is to teach and engage multiple children with definite differences in learning styles.
As you can imagine (and probably already know) curriculum that might work well for girls doesn't always work for boys, and some girls do better with the more physical and interactive teaching styles as well.
Daughter has finally hit on a method that the boys like- unit studies.
Even both my grandsons, one of which isn't too much into school, said they were really looking forward to school starting this year. You know it's a winner when that happens!!
A few days ago I was searching for Amazing Grace sheet music with lyrics and found this Amazing Grace hymn study homeschool resource from homeschoolgiveaways.com.
It's Part 2 of their 7 Part Hymn Study Series which you can find at that link.
Not only does it have a link to Amazing Grace sheet music with lyrics (for both piano and guitar) but backing tracks to play with (for free) and a ton of other resources and links.
I haven't looked at all the links, but easily, there is enough to develop a study unit around many aspects of this amazing hymn that is so powerful and moving. There is also an Amazing Grace Bible study link.
I shared it with my daughter and thought it might be useful for other homeschooling parents. I am not a homeschooling expert by any means, but hope you take a look and decide for yourself if it fits into your teaching plan.
As for me, I recently started learning to play the violin, so I'm definitely downloading the backing track. Also, as a newbie, having sheet music with lyrics is a bonus. And I think I'll read up on the history of one of my favorite hymns.
I sincerely hope this homeschoolgiveaways.com link is helpful.  What do you think – was helpful to you?


Pam is an experienced, professional, freelance B2B copywriter, consultant and trainer.  She blends her love of studying God's Word and interests in natural beauty, health and home alternatives and communication skills to bring you resources to improve your everyday life. You can also find her at
Follow Us