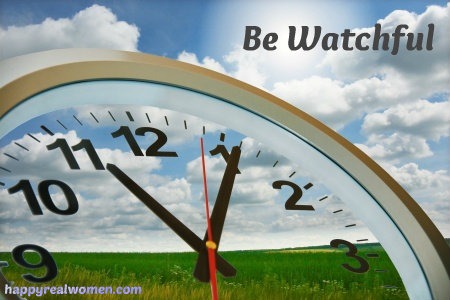 The things of the world, whether it is the latest celebrity or entertainment talk, a national controversy, fear, health, personal finances, economics, politics or any other imaginable topic, are able to become a distraction to what is really going on in the world, if we are not careful.  This is a message to Be Watchful. 
Please be watchful of all these worldly distractions, and pray that your heart is settled and centered on Christ amid all the chaos surrounding you.  I say this as much a reminder for myself as for you who are reading this, because no one is immune to it.
This is also a message to be watchful of Jesus' second coming.
God has put this message on my heart for some time now, and I have to admit I have been slow bringing it to completion.  Not because the message is wrong, but because I wanted to make sure to find the scripture to back it up for me and also for you. At least twice as I traveled for Thanksgiving, I listened to sermons that brought home the EXACT verses I needed to find.
Then I got home and listened again, with pen, paper and my Bible so I could do my own research. Then I sat on it a bit longer and prayed again for wisdom, that I hadn't missed anything, when my own pastor confirmed in his teaching the very verses I had found.  All this just confirms to me that this is a message God wants to be known.
With all the various events happening around the world, I can't help but be reminded that Jesus told his disciples in Matthew 24 to be watchful for the signs (wars, rumors of wars, earthquakes, famines, pestilences, diseases, etc) of His return.
At Least Eight Verses on 'Be Watchful'.
I found at least eight verses where we are reminded to 'be watchful'. Remember from the article  where I talked about recognizing when scripture is established by two or more witnesses as being an important doctrine of God?
I'd say finding at least eight scripture references tells us that being watchful is very important. I encourage you to read the verses before and after the ones listed here to understand the full context of what is being said.  That being said, here are the verses:
 Matthew 24:42-44
"Watch therefore, for you do not know what hour your Lord is coming. But know this, that if the master of the house had known what hour the thief would come, he would have watched and not allowed his house to be broken into. Therefore you also be ready, for the Son of Man is coming at an hour you do not expect."
 Matthew 25:13
"Watch therefore, for you know neither the day nor the hour in which the Son of Man is coming."
Matthew 26:41
"Watch and pray, lest you enter into temptation. The spirit indeed is willing, but the flesh is weak."
Mark 13:33-37
"Take heed, watch and pray; for you do not know when the time is. It is like a man going to a far country, who left his house and gave authority to his servants, and to each his work, and commanded the doorkeeper to watch. Watch therefore, for you do not know when the master of the house is coming—in the evening, at midnight, at the crowing of the rooster, or in the morning— lest, coming suddenly, he find you sleeping. And what I say to you, I say to all: Watch!"
1 Corinthians 16:13-14
Watch, stand fast in the faith, be brave, be strong. Let all that you do be done with love.
1 Thessalonians 5:1-6
But concerning the times and the seasons, brethren, you have no need that I should write to you. For you yourselves know perfectly that the day of the Lord so comes as a thief in the night. For when they say, "Peace and safety!" then sudden destruction comes upon them, as labor pains upon a pregnant woman. And they shall not escape. But you, brethren, are not in darkness, so that this Day should overtake you as a thief. You are all sons of light and sons of the day. We are not of the night nor of darkness. Therefore let us not sleep, as others do, but let us watch and be sober.
1 Peter 4:7
But the end of all things is at hand; therefore be serious and watchful in your prayers.
Revelation 3:3
Remember therefore how you have received and heard; hold fast and repent. Therefore if you will not watch, I will come upon you as a thief, and you will not know what hour I will come upon you.
As In the Days of Noah
When will this happen?  No one knows the day or hour, but the Bible gives clues to the times and seasons that we should watch for.
Matthew and Luke both record verses that talk about the Days of Noah.  One of them is just preceding the Matthew 24 verses above. Beginning in verse 36 Jesus tells us that times will be like in the days of Noah.
 Matthew 24: 36-41
"But of that day and hour no one knows, not even the angels of heaven, but My Father only. But as the days of Noah were, so also will the coming of the Son of Man be. For as in the days before the flood, they were eating and drinking, marrying and giving in marriage, until the day that Noah entered the ark, and did not know until the flood came and took them all away, so also will the coming of the Son of Man be.  Then two men will be in the field: one will be taken and the other left. Two women will be grinding at the mill: one will be taken and the other left."
Luke also talks about the days of Noah and Lot:
Luke 17:26-30
And as it was in the days of Noah, so it will be also in the days of the Son of Man: They ate, they drank, they married wives, they were given in marriage, until the day that Noah entered the ark, and the flood came and destroyed them all. Likewise as it was also in the days of Lot: They ate, they drank, they bought, they sold, they planted, they built; but on the day that Lot went out of Sodom it rained fire and brimstone from heaven and destroyed them all. Even so will it be in the day when the Son of Man is revealed.
Look at Genesis 6:1-13 to see what it was like in Noah's day.   Genesis 19:1-5 describes the days of Lot.
People Did Not Know
Matthew 24:38 They [the people] "did not know until the flood came and took them all away".
Look again at Matthew 24:36-41 above. People in Noah's time were living their normal lives until Noah entered the ark. Matthew 24:38 says the people "did not know" what was happening until it was too late.
They would have seen Noah building the ark, more than likely they asked him what he was doing, and when he told them, they probably laughed at him.
Yes, I know that none of this is recorded in the Bible, but looking at the verses below, one can piece together a possible scenario similar to what I just described.
Let's take a look at some verses to see if we can get a better understanding:
How Could People Not Know?
Genesis 2:5 God had never caused it to rain on the earth before.  In fact, this verse is the first mention of rain in the Bible.
Genesis 7:4 Seven days before the flood starts, God tells Noah He will cause it to rain on the earth.  This is the second mention of the word 'rain'.
So, from this it seems likely that the people counted on what they had always known…and seen.  It is easy to do, and people still do it today.  Certainly, I've been guilty of it.
I'm pretty sure Noah's activities didn't go unnoticed though.  Here's what I mean:
It Took Noah 100 Years to Build the Ark.
Genesis 5:32 – Noah was 500 years old
Genesis 6:14 – God told Noah to build the ark
Genesis 7:6 – Noah was 600 years old when the flood waters came.
The Size of the Ark
Genesis 6:14-15 gives the dimensions.  By today's measurements, it was the length and width of a football field, and taller than a 3 story building. Go here for a more complete explanation of the ark's size, and then come back.
It was noticeable, to say the least. And especially as it got closer to completion.
Noah was a Righteous Man and a Preacher of Righteousness.
Genesis 6:8-9 – 'But Noah found grace in the eyes of the Lord.' Verse 9 goes on to tell us 'Noah was a just [righteous] man, perfect [or blameless, or having integrity] in his generations. Noah walked with God.'
Genesis 7:1 When the Lord tells Noah it's time for him and all his household to enter the ark, He says again that Noah is found righteous in this generation.
2 Peter 2:5 – Noah was a preacher of righteousness. Although there is nothing in the Bible that leaves a record of Noah's words or the response he got, Peter tells us he was a preacher who spoke righteousness.
It seems likely that when people started seeing what Noah was doing, they started asking him questions.  And because of Noah's character, as noted above, it seems reasonable that Noah would have told them about God and the warning he was given.
Not Many Were Saved
Genesis 6:18 God makes a covenant with Noah, his three sons (also listed in v10) and each of their wives.
Genesis 7:1 The Lord tells Noah and all his household it's time to enter the ark.
1 Peter 3:20 tells us that while the ark was being prepared, only eight souls were saved through the water.
It's hard to know exactly if these verses are talking about the same eight people, or if Peter is referring to an additional people that believed, and died before the flood came. I tend to believe Genesis 6:18 and 1 Peter 3:20 are talking about the same people.
The Lord made a covenant with Noah, his sons and their wives (eight people specifically mentioned).  I know some believe the 'household' also included servants, but I can't find another scripture that clearly supports that.  It doesn't really matter; in either case not many were saved.
Warning About Scoffers
Knowing the response we sometimes get today when we tell someone about Jesus, it is probable that in Noah's day the people responded the same way: turned a blind eye to it all, didn't listen to what he had to say, and even scoffed at his message.
The Bible uses the words 'scoffer' and 'scorner' to describe those that will mock or deride the prophetic message of Jesus' coming (see Peter below and Proverbs 9:7-8, 13:1, 14:6, 15:12 for a few examples).  God knew human nature wasn't going to change very much. But He still wants us to tell them.
Peter reminds us about the scoffers in 2 Peter 3:3-10:
Knowing this first: that scoffers will come in the last days, walking according to their own lusts, and saying, "Where is the promise of His coming? For since the fathers fell asleep, all things continue as they were from the beginning of creation." For this they willfully forget: that by the word of God the heavens were of old, and the earth standing out of water and in the water, by which the world that then existed perished, being flooded with water. But the heavens and the earth which are now preserved by the same word, are reserved for fire until the day of judgment and perdition of ungodly men. But, beloved, do not forget this one thing, that with the Lord one day is as a thousand years, and a thousand years as one day. The Lord is not slack concerning His promise, as some count slackness, but is longsuffering toward us, not willing that any should perish but that all should come to repentance. But the day of the Lord will come as a thief in the night, in which the heavens will pass away with a great noise, and the elements will melt with fervent heat; both the earth and the works that are in it will be burned up.
Many people today mock Christianity altogether, and the idea of Jesus' return.  People may mock you and me.  But I want to be watchful, and hope you do too.   In that spirit, I share this video.
This is Pastor Steve Cioccolanti from Discover Ministries in Melbourne, Australia.
Is he right? You will have to decide for yourself. It is difficult to understand what we are seeing as it relates to end time signs, but the times and seasons we are to watch for appear to be lining up with scripture (see Luke 21, particularly 10-11, 25, Matthew 24, particularly 7, 29, Mark 13, particularly 7-8, 24-25).   I think his points are worthwhile to consider.
What I do know for certain is that we are told to be watchful, and that is the message I'm passing along here.
Here are additional scripture references for the video:
Revelation 6:12-13
I looked when He opened the sixth seal, and behold, there was a great earthquake; and the sun became black as sackcloth of hair, and the moon became like blood.  And the stars of heaven fell to the earth, as a fig tree drops its late figs when it is shaken by a mighty wind.
Acts 2: 19-20 (quoted from Joel 2:30-31)
"I will show wonders in heaven above, and signs in the earth beneath: blood and fire and vapor of smoke.  The sun shall be turned into darkness, and the moon into blood, before the coming of the great and awesome day of the Lord."
Joel 2:10, 30-31
The earth quakes before them, the heavens tremble; the sun and moon grow dark, and the stars diminish their brightness…. "And I will show wonders in the heavens and in the earth:
Blood and fire and pillars of smoke.  The sun shall be turned into darkness, and the moon into blood, before the coming of the great and awesome day of the Lord."
Joel 3:15
The sun and moon will grow dark, and the stars will diminish their brightness.
For more in this series:
Pam is an experienced, professional, freelance B2B copywriter, consultant and trainer.  She blends her love of studying God's Word and interests in natural beauty, health and home alternatives and communication skills to bring you resources to improve your everyday life. You can also find her at
Follow Us