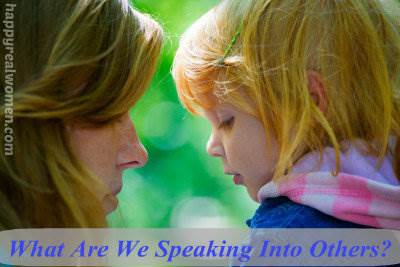 Death and life are in the power of the tongue, and those who love it will eat its fruit.

Proverbs 18:21
Several weeks ago I witnessed firsthand a mom's interactions with her young children.  It has troubled me so much that I write this. And I prayed for her. It makes me think: what are we speaking into others?
I don't know her personally, but she has a large family (let's just say more than 3 children), and having 4 grandsons I've watched and admired her ability to get them all out the door and to church on time.
I learned that her youngest child was born with lifelong developmental challenges and already had major surgery. I can appreciate that she has a lot on her plate.
What struck me was how she spoke to and about her children.
One occasion I heard her berate her daughter in a very public setting for something. I don't know the transgression, but the correction was harshly spoken… a graphic, adult-like explanation about 'shoving a foot where the sun doesn't shine' if you get my meaning.
To a pre-teen child.
In a church setting.
The next time I saw her I happened to be standing near her infant, which was in the car carrier and temporarily unattended. I peeked in the blankets and we were having a brief  'conversation', when she came back with her other children.
We chatted briefly and I complimented her on how cute and content her baby was. She commented that she was glad her child had these developmental challenges because she couldn't handle another normal child (her emphasis) – as she patted the above daughter's head.  I was taken completely off guard.
At what she said.
And that she said it in front of the 'normal' children.
Now I realize as Christ's children, we are all in our own walk and each one of us is at a different point on the path to being conformed into Christ's image:
Romans 8:28-29
And we know that all things work together for good to those who love God, to those who are the called according to His purpose.  For whom He foreknew, He also predestined to be conformed to the image of His Son, that He might be the firstborn among many brethren. (emphasis added)
2 Corinthians 3:18
But we all, with unveiled face, beholding as in a mirror the glory of the Lord, are being transformed into the same image from glory to glory, just as by the Spirit of the Lord. (emphasis added)
1 Corinthians 15:49
And as we have borne the image of the man of dust, we shall also bear the image of the heavenly Man. (emphasis added)
The Challenge
I'd like to challenge us to examine what we speak and if we are speaking life or death into others.
This doesn't just apply to moms, but especially as a mom, our words are deeply felt by our children, and will leave lifelong impressions.
And whether we realize it or not, chances are we don't say it just once.
Ephesians 4:29
Let no corrupt word proceed out of your mouth, but what is good for necessary edification, that it may impart grace to the hearers.
Proverbs 15:1
A soft answer turns away wrath, but a harsh word stirs up anger.
Proverbs 12:18
There is one who speaks like the piercings of a sword, but the tongue of the wise promotes health.
Proverbs 15:4
A wholesome tongue is a tree of life, but perverseness in it breaks the spirit.
James 3:10
Out of the same mouth proceed blessing and cursing. My brethren, these things ought not to be so.
Titus 3:2
To speak evil of no one, to be peaceable, gentle, showing all humility to all men.
Love On People With Your Words
No matter where we find yourself in this season of our lives, we can practice speaking life into others. If you're hoping for a spouse or children, don't wait until they show up to speak positive, affirming words to them.
Practice on your parents, siblings, your siblings' friends, your friends and acquaintances, co-workers, the cashier checking out your groceries… Everywhere you go. If that all seems to hard, practice on your dog, or your cat, horse, guinea pig…you get the picture.
Ephesians 5:1-4
Therefore be imitators of God as dear children. And walk in love, as Christ also has loved us and given Himself for us, an offering and a sacrifice to God for a sweet-smelling aroma.  But fornication and all uncleanness or covetousness, let it not even be named among you, as is fitting for saints; neither filthiness, nor foolish talking, nor coarse jesting, which are not fitting, but rather giving of thanks.
Its important to guard our words and actions. Paul warns us in Galatians 6:7-8 that we reap what we sow:
Do not be deceived, God is not mocked; for whatever a man sows, that he will also reap. For he who sows to his flesh will of the flesh reap corruption, but he who sows to the Spirit will of the Spirit reap everlasting life.
In fact, in a world where so much is spoken to tear people down, degrade and humiliate them, we will be a welcome person to be around. This is a powerful attractant in a world of darkness.
No where in the bible is it written that Jesus spoke a derogatory word to anyone, even when he was being wrongly accused and crucified.
Revelation 3:14 refers to the Lord as the Faithful and True Witness, so when he called the Pharisees 'a brood of vipers' (Matthew 12:34, start at v. 24) it wasn't derogatory, He was speaking truth.
Conformed into Christ's Image
What do we look like when we are conformed into Christ's image? What should we strive for?
I don't know about you, but honestly, there are times when I do best with a checklist. God is so gracious in His word that He knows that many of us are like that, and provides one. Let's look at Galatians 5:22-23:
But the fruit of the Spirit is love, joy, peace, longsuffering, kindness, goodness, faithfulness, gentleness, self-control. Against such there is no law.
With a little more instruction on how to live this out in verses 24-26:
And those who are Christ's have crucified the flesh with its passions and desires. If we live in the Spirit, let us also walk in the Spirit. Let us not become conceited, provoking one another, envying one another.
Ruth is an example of this. Part of her character was shown in the words she spoke. She was a Moabite woman, who married one of Naomi's sons. Moabites worships idols  and the Lord told the children of Israel not to intermarry with them ( see 1 Kings 11:1-8). 
But after Naomi, Ruth and her sister-in-law all outlived their husbands, Ruth chose to go with Naomi when she decided to return to Bethlehem, Judah after the drought ended.
The bible says they lived there about 10 years (v4). During that time Ruth probably heard a lot about God and all he had done for His people, because in Ruth 16-17 she made a bold declaration:
But Ruth said: "Entreat me not to leave you, Or to turn back from following after you; For wherever you go, I will go; And wherever you lodge, I will lodge; Your people shall be my people, And your God, my God. Where you die, I will die, And there will I be buried. The Lord do so to me, and more also, If anything but death parts you and me."
No doubt she was the talk of the town when they returned to Bethlehem. However, it wasn't her outward appearance that attracted Boaz (at least at first), but her character and speech (read chapter 2).
By scripture, Boaz first met Ruth when she was gleaning in one of his fields – working outside in a hot sweaty, dusty environment in a ordinary dress, with her hair most likely under a scarf. The book of Ruth ends with God making her part of the lineage of Jesus.
What Are We Speaking Into Others?
Psalm 141:3
Set a guard, O Lord, over my mouth; keep watch over the door of my lips.
We don't have to get all preachy and weird people out. Be conscious of how we speak to others, and especially those closest to us. Walk confidently in the grace and forgiveness we've been given, and show the same to others. For us to do the same takes us one step closer to conforming to Christ's image.
-Pam
Pam is an experienced, professional, freelance B2B copywriter, consultant and trainer.  She blends her love of studying God's Word and interests in natural beauty, health and home alternatives and communication skills to bring you resources to improve your everyday life. You can also find her at
Follow Us