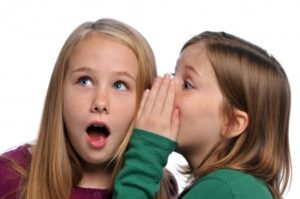 Every one of us is 'hardwired' for one (or more) dominant personality styles from birth.  These personality styles will tell a lot about our communication styles.
Those personality characteristics make us somewhat 'predictable' in how we act and react to situations,what motivates us, our style of dress, the car we drive and all sorts of other things.  Even the career choices we will thrive in.      Peter and Thomas are two Biblical examples of disciples with very opposite personality styles.
If you learn what characteristics to look for, you may see them in your children from a very young age (even 6 months or so).  Here is a video example of two cute sisters with different personality styles.  Notice their very different reactions to the same surprise!
If you want to learn more about the personality and communication styles of your children, I encourage you to check out the resources to the right.  The book Different Children – Different Needs is an invaluable resource.
This video brings back memories of me and my sister!  How about you…does this spark any memories?
Pam is an experienced, professional, freelance B2B copywriter, consultant and trainer.  She blends her love of studying God's Word and interests in natural beauty, health and home alternatives and communication skills to bring you resources to improve your everyday life. You can also find her at
Follow Us