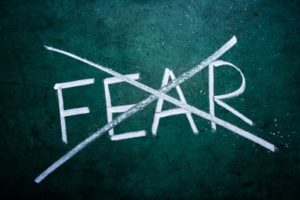 Several words are used in both the Old Testament and New Testament. However, only the majority uses in the KJV translation are reviewed here.

Old Testament (Hebrew)
3372- to fear, morally to revere, causatively, to frighten, affright, be (make) afraid, dread, (put in) fear, (be had in) reverence.
3373- from 3372; fearing, morally reverent, afraid, fear (-ful).
3374-feminine of 3373; morally reverence, dreadful, exceedingly, fear (-fullness).
——-
6342- to be startled (by a sudden alarm), hence to fear in general, be afraid, stand in awe, (be in) fear, make to shake.
6343-from 6342; a (sudden) alarm (properly the object feared, by implication, the feeling): dread(-ful), fear, (thing) great [fear, -ly, feared], terror.
New Testament (Greek)
5399-from 5401; to frighten, i.e. (passive) to be alarmed; by analogy to be in awe of, i.e revere: be (+ sore) afraid, fear (exceedingly), reverence.
5401- from a primary root of another word; (to be put in fear); alarm, or fright: be afraid, + exceedingly, fear, terror.
Notice how BOTH positive (revere, reverence, awe) and negative (frighten, afraid, alarm, etc,) words are used together in the same definition to denote fear. Therefore, it is very important to be mindful of the context in which the word fear is used in scripture so that we understand the meaning intended.
———————–
NOTE: Word studies are a Strong's Concordance 'quick look' at the original Hebrew or Greek meanings of particular words relevant to a post elsewhere. Always, search out the meaning for yourself. Please take advantage of the many free online resources available.
Pam is an experienced, professional, freelance B2B copywriter, consultant and trainer.  She blends her love of studying God's Word and interests in natural beauty, health and home alternatives and communication skills to bring you resources to improve your everyday life. You can also find her at
Follow Us