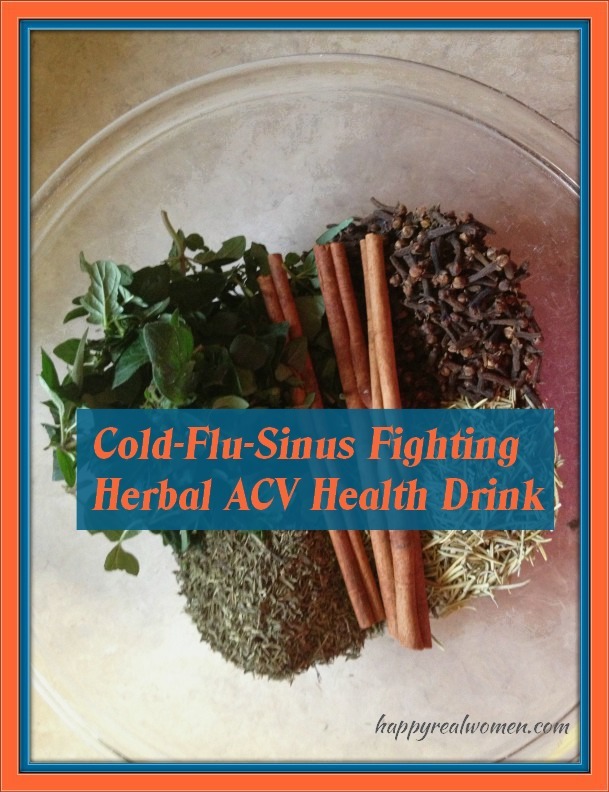 This Cold-Flu-Sinus Fighting Herbal ACV Health Drink is an original recipe inspired by those 'make your own Thieves® essential oil recipes.  Three reasons to try it: 1) the ingredients are common culinary herbs, 2) it is easy make and ready to use in a few weeks, 3)  AND it really works!  Just in time for winter cold and flu season.
---
Hello readers,
I know it's been a while since I posted anything here. Of course there is a story behind that and lessons to be learned, and I will share some of that shortly. 
In the mean time, since winter is nearly upon us, I thought it would be good to share this recipe with you.  I've made it twice now (once with fresh oregano- as in the picture and once with all dried herbs), and have another batch infusing as I write. 
Let me what you think!   


---
I don't know about you, but there are times when you just need to be proactive about your health…right? 
For instance, I am very prone to sinus infections over the winter months – narrow sinus cavities and sniffles and BOOM!!  
For years, I could count on getting one sometime between November and February. And by the time I felt the symptoms and got on antibiotics, it was too late to do much good.  I was always flat out on the couch for 4 days – 3 of which I couldn't lift my head.
Unfortunately, this was TYPICAL for me, even when I caught it early.  It was truly awful.
What About A Preventive Option?
I came up with an essential oil sinus blend that works really well when you start getting symptoms.  But I seriously started thinking of a way to prevent getting a sinus infection in the first place. 
You are probably familiar with the Braggs apple cider vinegar health drink or Trim Healthy Mama Good Girl Moonshine version, both of which are mentioned in the post 25 Apple Cider Vinegar Benefits & Uses.  I love the ACV health drink and drink it nearly every day, especially in the warm weather months.
Well, anyway, late one summer a few years ago, I decided to try combining the benefits of the ACV health drink and the properties of Thieves® essential oil blend into one drink, to punch up the health benefits.  
But instead of using essential oils, I wanted to use herbs.
About Thieves® Essential Oil Blend
 You have probably heard of the Thieves® Essential Oil Blend. You can buy it, or make your own version.  I haven't posted a homemade recipe, but you can find one here at Mountain Rose Herbs.
There are many variations to this recipe, as well, that you can find online. 
There seems to be an interesting history, or folklore of how it came about. According to what I found, it was originally a vinegar and herb concoction.
The tale loosely goes that four thieves were robbing graves in the 15th century during a bubonic plague outbreak wearing a strange, beak-like mask filled with herbs and vinegar, and they didn't get sick.
You can read more about the secret of thieves  and another well documented four thieves vinegar history account to see what I found.
Antiviral, Antibacterial, Antiseptic + Properties
If you study the essential oils commonly used in this blend, it has wonderful, practically anti-EVERYthing properties!
The Thieves® essential oil blend is great for when you get a scratchy throat, or generally icky feeling that you are coming down with something.  Just put some on your throat and back of your neck, but make sure it's diluted properly first.
Wintertime Illnesses 
Generally, there are plenty of winter-time viruses and bacteria to contend with.  Probably we all know about the common ones, but I did some research just to make sure I was on point and found more than I realized. 
Here are a few links for you that I found:
A to Z Guide to Bacterial and Viral Infections
If that's not bad enough,  Ebola and EV-D68 were also making the headlines in Winter 2014 – both viruses. 
As for me and my sinus infections,  I found that sinus infections are often caused by a virus too.  
OKAY… I'm not crazy to think that I 'just have to live with this'!!
About This Recipe
What follows is my Cold-Flu-Sinus Fighting Herbal ACV Health Drink recipe. Like I mentioned in the beginning, this is an original recipe, and is inspired by those 'make your own' Thieves® essential oil recipes.
It combines the benefits of the ACV health drink and the properties of Thieves® essential oil blend into one drink to punch up the health benefits.  
It's also a take on the health drink you grandmother, or great-grandmother probably used to drink.  Mom told me her grandmother used to drink a cup of lemon juice mixed in warm water and sweetened with honey every morning instead of tea. 
If you ask around, you might find you had older-generation family members who did the same.
My Three Objectives When Creating This Recipe:
To use herbs that are easily obtainable – either from your garden or the bulk herb section of your local health food store, and not herbs that had to be mail ordered. Not that there is a problem with that, but if you want to have it on hand quickly, waiting for ingredients isn't the best option.
To use herbs that had similar properties to the essential oils in a Thieves® essential oil blend. There are many homemade versions out there, so I studied the different oil blends, their properties, and the oil ratios.
To select herbs that would be familiar 'cooking herbs'.  I figured these would be readily available, and I would be comfortable ingesting them. And I could come up with a combination that might taste fairly good.  Hey, pleasant taste never hurts!
After much research, here is a chart of the herbs I selected, along with their properties. My information came from the Modern Essentials book for individual essential oil properties.
Since these are known properties for the oils, by extrapolation, I estimate that these same properties are in the herb form as well.  I chose this route because I couldn't find any information on the herbal properties. 
I selected oregano, cinnamon, thyme, rosemary, and clove as the herbs.  They provide a well-balanced range of properties, and at least one herb is very high in one of the 7 properties. This way, all the bases are covered.
You can see the properties in this chart:

The Recipe
For this Cold-Flu-Sinus Fighting Herbal ACV Health Drink recipe you can use either fresh or dried herbs, depending on which you prefer and have on hand.  Dried herbs are more potent, because…you know, their dried.
 If you use fresh herbs make sure to use roughly a double portion than you would of dry herbs to get the same strength.   I've used fresh oregano once (doubled, as in the picture) and dried oregano, too.
I used ratios that are comparable to the homemade Thieves® essential oil recipes you find on the internet. Think of ratios as 'parts' and the part can be ¼ cup, ½ cup or 1 cup, depending  on the volume of herb infused ACV you want to make.
This recipe calls for cinnamon sticks.  You will just have to estimate how many sticks equals the 'part' you are using.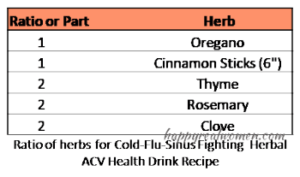 To read the above chart you could say that you will use 1 part each of oregano and cinnamon sticks to 2 parts each of thyme, rosemary and clove.
You can make any quantity you like. Fill a jar approximately half full of the herb blend and fill the jar to the top with ACV.  You will likely have to top off the jar after the herbs absorb the ACV. 
Herb Quantities for Quart Jar Size
I made a quart jar size, so here are my herb quantities. If you wanted to make a half-gallon size, just double it. 
This example uses all dried herbs to keep it simple.  Remember, if you use fresh herbs for any portion, double that amount to keep the same herbal strength.
Steps to Making Cold-Flu-Sinus Fighting Herbal ACV Health Drink
I used ¼ cup as my 'part' size. For oregano, I used ¼ cup.  For thyme, rosemary and clove I used ½ cup (2x the 'part' size).  I estimated (3) 6" cinnamon sticks would equal ¼ cup. 
Fill your jar half full with herbs and fill jar with raw, unfiltered ACV (like Braggs or a generic option). To speed up the herbal extraction (or if you don't have a sunny window sill), warm the ACV until it steams before filling the jar.  Don't boil, just warm to the touch – like testing a baby bottle!
Let steep in a warm place (like a sunny window sill) 4-6 weeks (2 weeks is fine for a less potent ACV blend or if you jump start it with warm ACV because you don't have a sunny spot). The warmth from sunshine or heating the apple cider vinegar aids extraction of the herb properties.
After the designated time, strain the herbs out of the vinegar. I like to stretch a clean knee-high stocking over my strainer so no herbs slip through but that isn't necessary. It also makes clean up easier!
Save an empty ACV jar and store the herb infused ACV in it. It will store indefinitely.
Determining Dosage
Just so you know — I have only taken this as a preventative – on a daily basis through the winter months to strengthen my immune system against viruses and bacteria.  This is the season when I am most likely to get sinus infections, so that was my main goal. 
Besides that, you never know when you are going to encounter someone with sniffles, or an early stage, non-symptomatic illness that they don't even know they have.    
Taking the lead from Rosemary Gladstar's Herbal Recipes for Vibrant Health book, Determining Dosage section (pg 379), you have to consider three areas when deciding on a dosage:
The herbs – their use and primary actions (what does each one do?), any potential toxic side effects and what the herb treats. Do this for each of the herbs you are using.
Your personal constitution – for the person taking the herb(s), are they relatively healthy? Are they hearty or sensitive when they are in a weakened state (for example: do they have a compromised immune system because of an illness or medications, etc.)?
The imbalance (or condition) you are addressing- is it chronic or acute? Is it excessive or deficient?
My Personal Dosage Evaluation
Remember– I have only taken this as a preventative.  Here is how I would address the three areas mentioned above for my self –
We already know the herbal properties from the first chart of essential oil properties. I'm trying to prevent a sinus infection and these herbs all work on that condition. (remember, based on the links above, we've established a sinus infection is viral infection)
I am relatively healthy, fairly hearty, not in a weakened state and
I am not in any chronic or acute state…and I want to keep it that way!!
Ms. Gladstar has an adult dosage guide for both chronic and acute situations. Since I'm not here to provide medical advice, I will let you look that up if that is your situation. 
For me – I don't need to take her recommended chronic dosage, so I take about 1-2 teaspoons per day to support my 'personal constitution'.
How To Use
I will warn you, it doesn't taste that great!!  It's not horrible or anything.  But, in my opinion, this is not a sipping drink like Good Girl Moonshine or a regular ACV health drink. Well, not for me anyway.
I put 1-2 teaspoons in a juice glass, filled about half way with water and added  1-2 drops of Stevia Liquid to make it taste better.  Sort of a one-swallow quantity.
You can mix it up like you would tea, of course.  I've never tried it that way, so don't have any comments to offer you.
How Did It Work? My Personal Experience 
So, I had been taking my Cold-Flu-Sinus Fighting Herbal ACV Health Drink daily for probably 6 weeks or so when DH came down with a really nasty head cold.  Everybody seemed to be getting it.
I mean really nasty. He was miserable, and I felt so bad for him. 
A couple of nights, one of us slept in the spare bedroom to get some sleep when he was hacking and coughing at his worst. 
But by then he'd had this for nearly a week, so, I'm sure I was exposed.
Throughout his 3 week cold (that year it the colds were hanging on for weeks), I never got anything!! 
Not even so much as a sniffle!!! 
At one point we both just looked at each other when we realized I wasn't getting sick from this.
When I started this journey, I had no idea whether my Cold-Flu-Sinus Fighting Herbal ACV Health Drink was a hare-brained idea or not.   But taking it daily was the only thing I did differently that whole winter. 
I'm saying it worked… YAY !!!
 It was pretty incredible actually 😀
I hope you find this post useful.  Let me know if you make it!
Pam is an experienced, professional, freelance B2B copywriter, consultant and trainer.  She blends her love of studying God's Word and interests in natural beauty, health and home alternatives and communication skills to bring you resources to improve your everyday life. You can also find her at
Follow Us