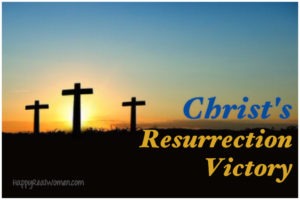 Christ's Resurrection Victory
I know the Bible says we will have trials, and God can turn them all to good for those who love him (Romans 8:28). But then Saturday (the day before Resurrection Sunday) God opened my eyes a bit more to Christ's resurrection victory.
With the Easter weekend I've been thinking a lot about Christ's resurrection and what that means to me.  Probably to those who don't get the 'Jesus died for me' message it all seems pretty weird.
I have also been thinking a lot lately about the trials, testings and temptations our Christian brothers and sisters are going through lately. Our house is not immune to them either, and I can recognize we are being tested, tried and tempted at every turn it seems like (more on that another time).  Are you  experiencing that too?
My daughter was the one who tipped me off to these trials, testings and temptations last year when we were talking.  They are going through the same thing… in different ways, but the same nonetheless.
Christ's Death & Resurrection
Jesus paid the sin price so we could live eternally with Him.
Romans 6:23
23 For the wages of sin is death, but the gift of God is eternal life in Christ Jesus our Lord.
In the Old Testament, blood sacrifices were established to atone for sins.  And they had to be made every year. That was the only way to pay for their sins until Jesus came.  He was the 'once and for all' blood sacrifice to atone for our sins.  God gave His Son to the world so that we could live with Him. The way to get that gift is by believing in Jesus Christ.
John 3:16
For God so loved the world that He gave His only begotten Son, that whoever believes in Him should not perish but have everlasting life.
Christ's Resurrection is also Victory.
1 Corinthians 15:56-57
…56The sting of death is sin, and the power of sin is the law; 57but thanks be to God, who gives us the victory through our Lord Jesus Christ. 58Therefore, my beloved brethren, be steadfast, immovable, always abounding in the work of the Lord, knowing that your toil is not in vain in the Lord. (emphasis added)
Death has been defeated by the Resurrection of Christ. Christ's resurrection is our victory.

How Christians Have Victory
Through Christ
Philippians 4:13
13 I can do all things through Christ who strengthens me.
John 15:5
5 "I am the vine, you are the branches. He who abides in Me, and I in him, bears much fruit; for without Me you can do nothing.
By the Holy Spirit
Galatians 5:16, 17, 22, 25
16 I say then: Walk in the Spirit, and you shall not fulfill the lust of the flesh. 17 For the flesh lusts against the Spirit, and the Spirit against the flesh; and these are contrary to one another, so that you do not do the things that you wish. … 22 But the fruit of the Spirit is love, joy, peace, longsuffering, kindness, goodness, faithfulness, 23 gentleness, self-control. Against such there is no law. 24 And those who are Christ's have crucified the flesh with its passions and desires. 25 If we live in the Spirit, let us also walk in the Spirit.
But that isn't all (as if that wasn't enough).  As a son or daughter of God, being born again, and saved by God's grace, we have victory to overcome our flesh, the world and Satan.

Victory Over Flesh, World & Satan
Victory Over the Flesh
Galatians 5:16-21
Victory By Walking in the Spirit
16 I say then: Walk in the Spirit, and you shall not fulfill the lust of the flesh. 17 For the flesh lusts against the Spirit, and the Spirit against the flesh; and these are contrary to one another, so that you do not do the things that you wish. 18 But if you are led by the Spirit, you are not under the law. 19 Now the works of the flesh are evident, which are: adultery, fornication, uncleanness, lewdness, 20 idolatry, sorcery, hatred, contentions, jealousies, outbursts of wrath, selfish ambitions, dissensions, heresies, 21 envy, murders, drunkenness, revelries, and the like; of which I tell you beforehand, just as I also told you in time past, that those who practice such things will not inherit the kingdom of God.
Victory Over the World
1 John 5:4-5
4 For whatever is born of God overcomes the world. And this is the victory that has overcome the world—our faith. 5 Who is he who overcomes the world, but he who believes that Jesus is the Son of God?
John 16:33
33 These things I have spoken to you, that in Me you may have peace. In the world you will have tribulation; but be of good cheer, I have overcome the world."
Victory Over Satan
James 4:7
7 Therefore submit to God. Resist the devil and he will flee from you.
1 Peter 5:8
8 Be sober, be vigilant; because your adversary the devil walks about like a roaring lion, seeking whom he may devour.

Victory In Jesus Hymn
There is an old (1939) hymn written by Eugene M. Bartlett called Victory In Jesus, that you might remember.  The first verse goes like this:
I heard an old, old story,
How a Savior came from glory,
How He gave His life on Calvary
To save a wretch like me;
I heard about His groaning,
Of His precious blood's atoning,
Then I repented of my sins
And won the victory.
You can read about that hymn and the scripture verses here and here.  The second link has a complete list of scripture references for a Bible study and downloadable sheet music.  You can also find sheet music with guitar chords here.
As the world gets darker and darker, there are going to be trials, testings and temptations we have to deal with.   As a child of the Most High God, He has given us that victory.
Revelation 12:10-11
 11 And they overcame him [Satan] by the blood of the Lamb and by the word of their testimony, and they did not love their lives to the death.
Don't ever forget that!!


Pam is an experienced, professional, freelance B2B copywriter, consultant and trainer.  She blends her love of studying God's Word and interests in natural beauty, health and home alternatives and communication skills to bring you resources to improve your everyday life. You can also find her at
Follow Us