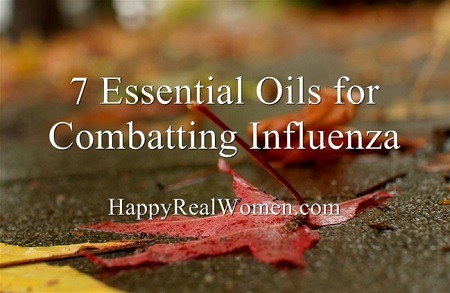 In case you need a quick reminder, influenza is a very contagious, viral infection of the upper respiratory system.
Symptoms typically come on suddenly, and can include a high fever (100 degrees or more) or feeling feverish/chills (not everyone gets a full-on fever),  dry cough, sore throat, severe muscle and joint aches and pains and pain around the eyes, fatigue, loss of appetite, nausea and nasal congestion.  To read more about flu and the list of flu symptoms, go here.
There are many essential oils that have properties for combatting influenza symptoms.  Here are 7 that were chosen for their  family friendliness.
However, if you have any concerns with children, older adults or others with sensitive skin, use the 'neat' oils (meaning ones that can be applied to children and adults without dilution) and dilute them as needed if there is still sensitivity.
See the notes below for each oil to determine which ones are best for your situation.
7 Essential Oils for Combatting Influenza
| | | | |
| --- | --- | --- | --- |
| Oil | Topical Application | Properties | Cautions |
| Frankincense  | Neat | "Anticattarrhal, anti-infectious, anti-inflammatory, antiseptic, expectorant, immune stimulant, sedative" | None |
| Myrrh | Neat | "Anti-infectious, anti-inflammatory, antiseptic, astringent, tonic" | "Use caution & dilute for use during pregnancy" |
| Lavender, | Neat | "Anticonvulsant, antidepressant,  anti-infectious, anti-inflammatory, antimicrobial, antiseptic" | None |
| Rosemary | Neat | "Analgesic, antibacterial, anticattarrhal, antifungal, anti-infectious, anti-inflammatory, antioxidant, expectorant" | "Avoid during pregnancy" |
| Eucalyptus | Neat (adults) Dilute (children & sensitive skin) | "Analgesic, antibacterial, anticattarrhal, anti-infectious, anti-inflammatory, antiviral, expectorant" | See Topical Application cautions |
| Ginger | Neat (adults) Dilute (children & sensitive skin) | "Antiseptic, laxative, stimulant, tonic, warming, Avoid sunlight for 3-6 hours after application" | See Topical Application cautions |
| Peppermint | Dilute (adults children & sensitive skin) | "Analgesic, antibacterial, anti-inflammatory, antiseptic, antiviral" | "Use with caution if pregnant or have high blood pressure" |
Source: Modern Essentials, A Contemporary Guide to the Therapeutic Uses of Essential Oils, 4th Edition.2012
How to Use
Frankincense, myrrh, lavender and rosemary can be applied 'neat' meaning directly from the bottle without dilution.  Eucalyptus, ginger and peppermint may need to be diluted in equal amounts with a carrier oil (see below for more information).
Diffuse Essential Oils into the Air
Something like a mini plug-in wall vaporizer works well in each bedroom.  I have seen these  and 'blank' scent pad refills at health food stores.  Blank scent pad refills are great because you can put the oils of your choice on them.
Other misting diffusers and passive diffusers  like these here and here are options for large spaces and personal use.
Apply Topically
Pick your oil(s) and apply them to your chest, back, sinuses and feet.
Compare your symptoms to the oils' properties to decide which oil(s) to use.
Check for dilution requirements.
Check for sensitivity to the oils chosen (see below).
Layer oils is an acceptable and very effective way to treat symptoms.  To layer, choose an oil, dilute if necessary and apply 1 -2 drops to the chest, back of the neck, back and/or feet and rub in.  Wait one or 2 minutes and apply the next oil on top of the first in the same manner.  This is the 'layering' effect.
You can also combine your chosen oils in a small, glass dish, dilute if necessary and apply to the chest, back of the neck, back and/or feet.  Use it all or seal it up tightly, because the essential oils will evaporate when exposed to the air.
For nausea, apply 1-2 drops around your belly button and massage in. This is similar to eating gingersnap cookies or drinking ginger tea, but essential oils work much more quickly.
Other Notes for Using Essential Oils:
Where dilution is needed, use equal parts essential oil to carrier oil (example: 2 drops essential oil to 2 drops carrier oil).  Carrier oils can include, sweet almond, coconut, jojoba and others.
To test for sensitivity to essential oils, put a small amount on the inside of your elbow and rub in gently.  Wait a few minutes (about 5).  If your skin is red, or tingles beyond a comfortable 'warm' sensation, add a few more drops of carrier oil and test again. You should feel some warmth, but it shouldn't be painful or uncomfortable.
Only the expected properties that affect influenza symptoms are listed.  Not all essential oil properties are listed for each oil.  For more information about the oils, check the source information listed at the bottom of the post.
'Children' generally means children under 6 years of age.
Keep away from eyes.  Do not get essential oils in your eyes, or close to your eyes.  If this happens, rinse with carrier oils, or milk.  The fats in the oils or milk will bind with the oil and disperse it. Oil and water do not mix. Do not rinse with water.
Other Herbs to Boost Your Immune System and Combat Influenza
In addition to the flu being a viral infection, so is the common cold. There are a couple of anti-viral herbal supplements that you can take to boost your immune symptoms and help with colds, sinus infections that often follow colds and other winter ails besides the flu. Read the labels, or check with a health care professional for medical advice before giving to children.
Olive Leaf Extract.  Make sure it is standardized to 12% oleuropein or higher. Watch Dr. Becker, from BioInnovations 

here

 and 

here

for more information.

Oregano Oil

.  Another powerful antiviral  herbal supplement.  Dr. Becker, from BioInnovations talks about oregano oil

here

.
Well, there you have it:  7 essential oils to combat influenza symptoms when you feel them coming on, and herbs to boost your immune system to help you keep from getting a viral infection.
What do you think?  Do you have other suggestions?

Pam is an experienced, professional, freelance B2B copywriter, consultant and trainer.  She blends her love of studying God's Word and interests in natural beauty, health and home alternatives and communication skills to bring you resources to improve your everyday life. You can also find her at
Share This!



Follow Us